A heart of solid oak, walnut and cherry.
The Dromborg is a showcase for award-winning mouldings, custom hand-carved panels, frieze mouldings and corbels. It all adds up to 9,000 square feet of living space you actually want to live in.
Front Entry Dutch Door. Four inches thick. Quarter sawn white oak.
Groin vault entry foyer with front door.
Oversized dutch door with tudor arch - true divided light glass design.
Kitchen in great room with breakfast nook.
In the great room. Sony TV rises on lift from console.
Dining room table in great room.
The great room at Christmastime. Looking north towards entry and library.
The Greatroom. Heavy beams with handcarved panels.
The Kitchen. Located SE end of Greatroom. Quarter sawn white oak with a copper range hood.
The entry to the library showcases panelled columns and oversized corbels.
The library, waiting for a gathering and decorated for Christmas.
The Library. A labor of love, with hand-carved and hand-rubbed moldings, deeply fluted columns, coffered ceilings, antique onyx lighting and high ceilings.
The Library. Architecturally proportional in the Corinthian Order.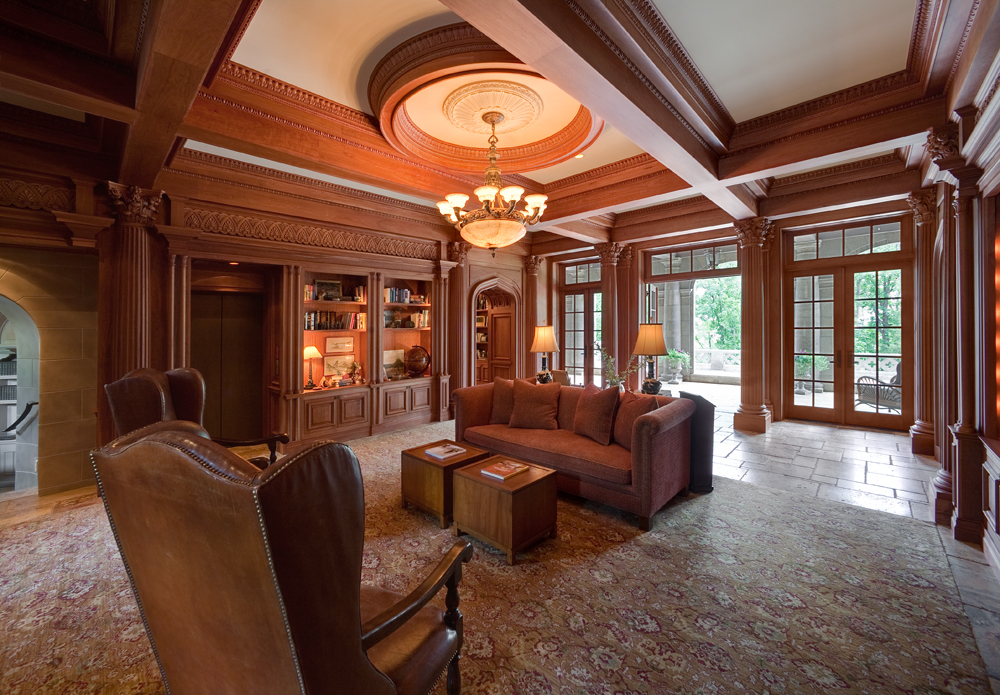 Library opens onto the loggia, with spectacular valley view.
Elegant symmetry - the library looking east.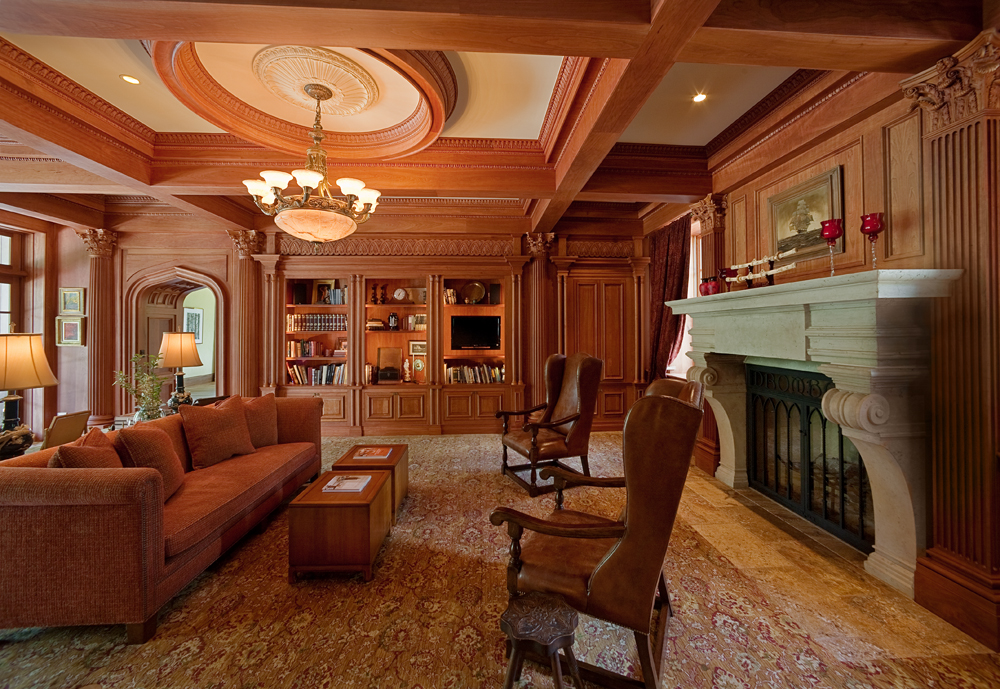 The Library. Panelled walls and nested bookcases.
The Library is spacious, with a warm, intimate atmosphere.
Closeup of library cabinetry in the Corinthian order
Curved center beams fit perfectly into straight beams.
The Chapel. Domed Ceiling. Antique black iron chandelier. Stone Floors.
Petite vertical panels in natural cherry and cypress treads.
The lounge can also be set up as home theater.
The Men's Lounge with heavy beams and pedimented door.
Custom handcarved corbels feature spades, hearts, clubs and diamonds motifs.
Second floor lounge. Complete with kitchen and full bath.
Second floor lounge. Exquisitely detailed cabinetry.
The map room, with extraordinary views. Third floor.
The Map Room. Third floor man-cave for a serious collector.
The map room elevator door. Elevator interior detailed in walnut.
The Map Room. Simple cypress beams.
Master bedroom, opens onto intimate porch and gallery beyond.
The Master Bedroom. Perfectly proportioned with a large cornice.
His bathroom. Petite columns support decorative beams.
His closet features carved pilasters throughout and a coved cornice detail.
Her vanity - petite details perfect simple lines.
Art room and guest quarters, with private bath.
Monastic guest rooms, one of three.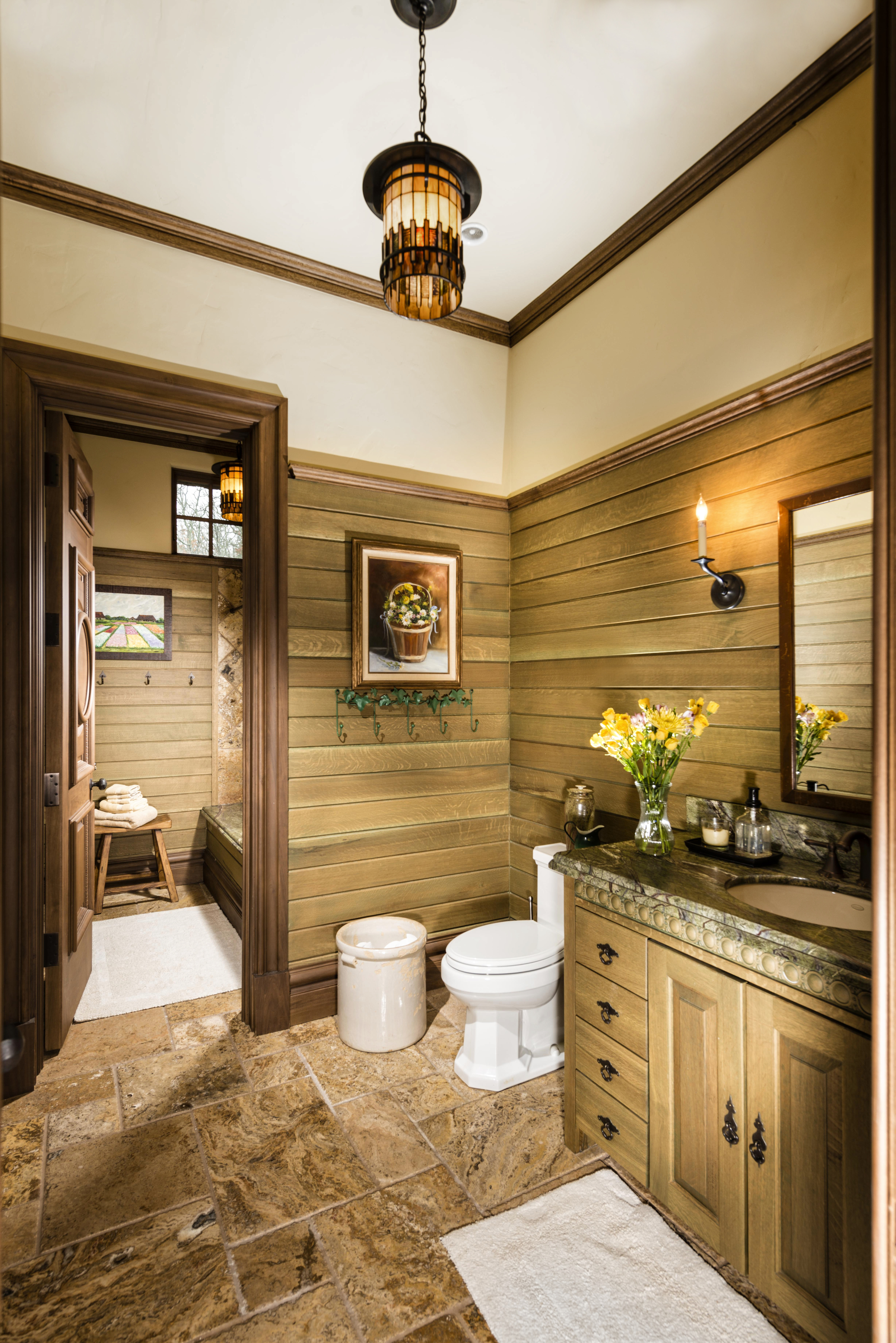 Guest bath, with private tub area.
His 5-car garage. The ultimate man cave.
Her oversized one-car garage.